On the 11 July 2023, Sir Dr. Iddriss Toppoh, Knight of Malta, Representative of the State of the Sovereign Order of Saint John of Jerusalem, Knights of Malta, Federation of the Autonomous Priories (KMFAP) to the Republic of Ghana donated five Haojin Hawk HJ200GY-3 motorbikes to the Nsawam Police Station, at the Nsawam-Adoagyiri District, in the Eastern South Region of Ghana.
According to Shiekh Sir Iddriss, offering the motorbikes is "an affirmation of the KMFAP commitment to provide the District Police Command with the necessary logistics required to help the service continue to fulfil its mandate of maintaining law and order, and protecting lives and property", thereby enhancing security in the area and combating crime at Nsawam Municipality, Coaltar District and the Ayensuano District of the Eastern Region. After presenting the motorbikes, Sir Iddriss further urged the Police to show their presence, improve their response time, patrol and rescue missions on the streets of Nsawam. He also acknowledged Sir Mehmet Gülkanat – Special Diplomatic Envoy of KMFAP to the Republic of Türkiye and Sir Dr. Bülent Çakmak – Director of Malta Cross Foundation International for Austria for their significant support.

Chief Superintendent Ebenezer Benson, the Nsawam Municipal Police Commander expressed his gratitude and thanked Sir Iddriss and KMFAP for the donation and support, and assured that the bikes would be put to good use.
Other attendees of the event were: Osman Ndego, Chief Inspector, Rabiatu Rahman, PW/D/ Chief Inspector, Emmanuel Ofei, District Chief Inspector, Albert Agyei Nkansah, Chief Inspector, Stephen Paul Dapaah, Assistant Crime Officer and Inspector Abubakar Iddrissu.
The motorbikes contribute to increasing police visibility, patrols and rescue operations in Nsawam. It is prudent and proactive to uphold and motivate the police service to work effectively and efficiently, in view of this, Sir Dr. Iddriss Toppoh, representing KMFAP, took the opportunity to present these motorbikes helping to improve policing and security. This initiative seeks to regain the confidence, trust and respect of the public, deepen police legitimacy and also build formidable relations between the Ghana Police Service and KMFAP.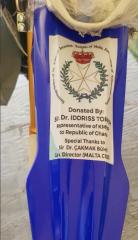 Dear Sir Iddriss, please accept our gratitude and remember the motto of our Order, the KMFAP humanitarian activity: "The reward of generosity is generosity itself."
17 July 2023